Šipky technologie M3 od Empire dart.
Tato technologie zaručuje menší průměr šipky při stejné hmotnosti. To znamená, že šipky zabírají v terči opravdu minimální prostor. Patentovaná M3 High Technologie umožňuje výrobu šipek v SUPER SLIM verzi. Tělíčka těchto šipek mají vnější závit, hroty a násadky mají závit vnitřní. Vlastní originální Empire Šipky M3 mají o 17-25% více hmoty než šipky s vnitřním závitem barelů. Tato technologie má 18g těžké šipky s průměrem pouze 4,6 mm, kdežto šipky s vnitřním závitem průměr 6-8mm. To přináší mnoho výhod, zejména při "180" hodech.
Šipky s plastovým hrotem M3.
Hmotnost těla: 16,3g
Hmotnost celé šipky cca 18g
Délka tělíčka: 54,4 mm
Průměr tělíčka: 5 mm
Additional information
| | |
| --- | --- |
| Category: | M3 Softtip Darts 18g |
| Barrel length: | 54,5 mm |
| Barrel diameter: | 5,0 mm |
| Materiál: | Wolfram 90% |
| Tip thread: | M3 |
| Shafts thread: | M3 |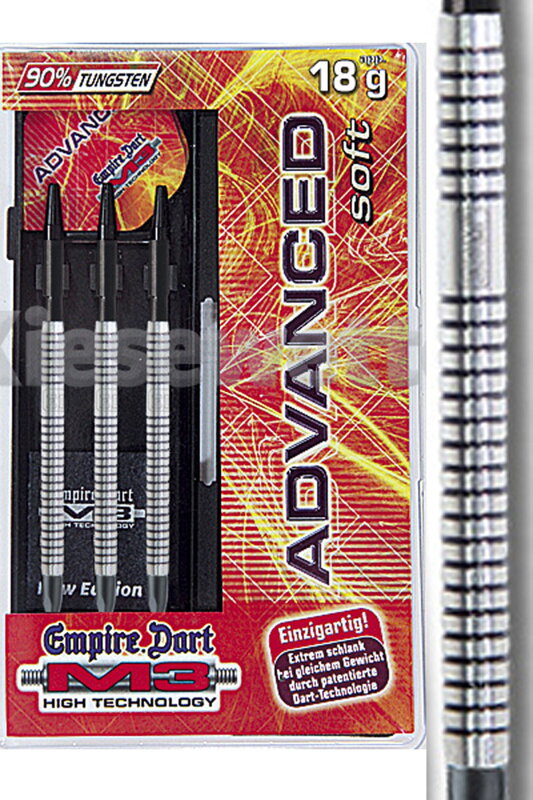 Empire Dart Softtip Darts M3 Advanced 18g