The ASP SP Black Edition darts were designed in collaboration with Nathan Aspinall.
Each 80% Tungsten barrel features a full length radial grooved profile that offers a consistent high-end grip to suit most casts, further enhanced by the addition of 3 "Asp" red rings at the front of the barrel to offer additional grip and texture.
The signature "Asp" shaped barrels are then coated with a combination of black PVD Performance finish and then sandblasted to give a matte black textured feel - enhancing the gentle grip provided by the radial grooved profile.
Barrel: 80% tungsten
Barrel length: 50 mm
Barrel diameter: 6,8 mm
Weight: 18g (complete darts)
Package contents: 1x set of darts (3 pcs)
Additional information
| | |
| --- | --- |
| Category: | Softtip Darts Tungsten 18g |
| Barrel length: | 50 mm |
| Barrel diameter: | 6,8 mm |
| Materiál: | Wolfram 80% |
| Tip thread: | 2BA |
| Shafts thread: | 2BA |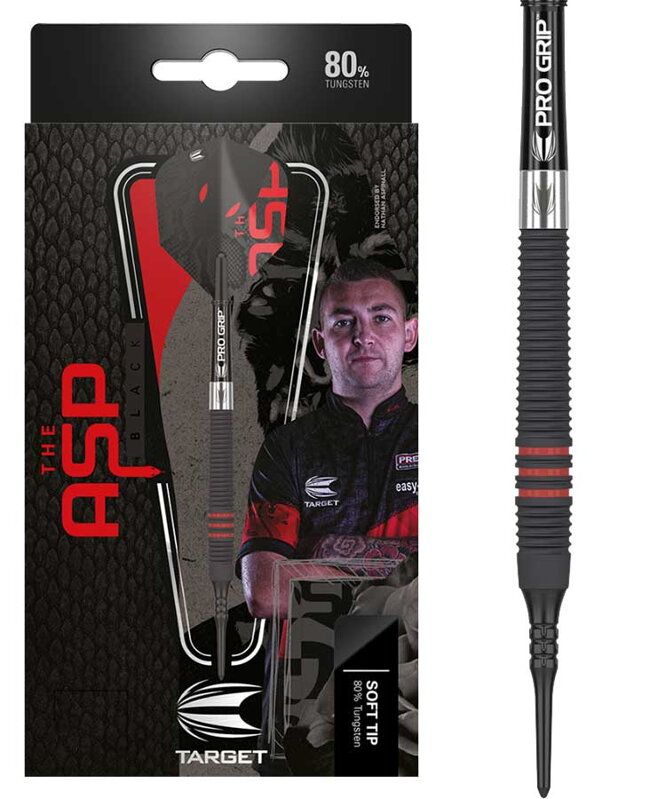 Target Softtip Darts Nathan Aspinall Black 80% 18g