Redefining the boundaries between dart design, performance, and innovation, the 975 Ultra Marine is simply the pursuit of perfection.
Drawing inspiration from the Elysian Seventh Edition, the 975 Ultra Marine 02 dart barrel showcases an unique grip which transitions down the length the barrel seamlessly into the Swiss Storm Nano Point, guaranteeing a flawless grip.
The dart is finished with an early exclusive K-Flex, Target's integrated flight and shaft system, in a No.6 flight shape and blue colourway.
Included in the presentation box are two extra sets of Swiss Storm Nano Points in silver and black, an exclusive 975 Ultra Marine Takoma Wallet and Pin Badge, a Premium Swiss Key, and 975 Ultra Marine booklet detailing the story behind the darts.
Package contents:
3 x 975 Ultra Marine 03 Dart Barrels
3 x 26mm Swiss Storm Nano in Silver
3 x 26mm Swiss Storm Nano in Black
3 x 30mm Swiss Storm Nano in Silver
3 x Short K-Flex No.6 in Blue
1 x Exclusive 975 Ultra Marine Pin Badge
1 x Exclusive Takoma Wallet
1 x Premium Swiss Key
1 x 975 Ultra Marine Booklet
Additional information
| | |
| --- | --- |
| Category: | Steeltip Darts Tungsten 23g |
| Barrel length: | 50 mm |
| Barrel diameter: | 7,2 mm |
| Materiál: | Wolfram 97,5% |
| Tip thread: | SWISS |
| Shafts thread: | 2BA |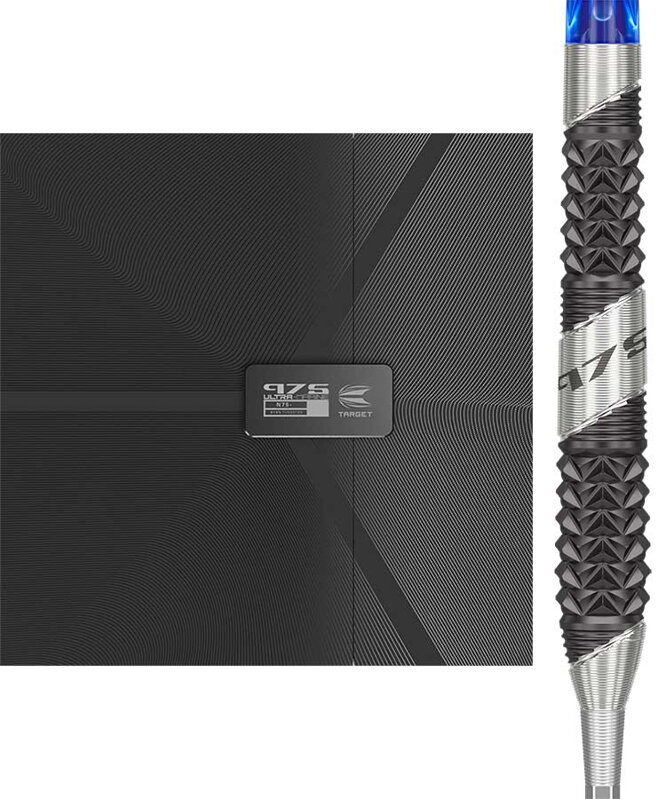 Target Steeltip Darts 975 Ultra Marine 02 SP 23g