Representing Target's vision for the future of darts, the Elysian 9 is the next generation of the limited edition darts. Delivering an experience that transcends darts and challenging the construct of what a dart can be, the objective remains the same; Create something truly beautiful.
This year, the Elysian 9 is inspired by 'Speed'. Setting the minds racing of our extremely talented designers, they saw a vast landscape of visual material that has been documented around the theme of Speed over thousands of years. From sleek lines of a Roman arrow to the mind-warping physics behind hypersonic travel, there is a gigantic library of inspiration.
Captivating the image of Speed, the Elysian 9 combines a range of coatings that showcase movement even while the dart is stationary. The front of the barrel features an experimental chrome asymmetric lines and vent grip precisely milled into the barrel with the fluidity of the design extending onto the exclusive Swiss Storm Points. This contrasts to the colour shifting rear of the barrel that perfectly frames the design to create a truly mesmerising dart. In total, the barrel takes over ten times longer than other darts to be created before applying coatings and going through a strict review to ensure they meet the Target standards.
Package contents:
3 x Elysian 9 Dart Barrels
3 x Pixel Tips
3 x Exclusive 30mm Titanium SP Conversion Point
3 x Exclusive Elysian 9 Pro Grip Evo Shafts
3 x Exclusive No.2 Elysian 9 Flights
3 x Exclusive No.6 Elysian 9 Flights
3 x Exclusive Ten-X Elysian 9 Flights
1 x Exclusive 9 Swiss Key
1 x Exclusive Steel Sculpture Dart Stand
1 x Exclusive Elysian 9 Book
Additional information
| | |
| --- | --- |
| Category: | Softtip Darts Tungsten 20g |
| Barrel length: | 50 mm |
| Barrel diameter: | 7,1 mm |
| Materiál: | Wolfram 90% |
| Tip thread: | 2BA |
| Shafts thread: | 2BA |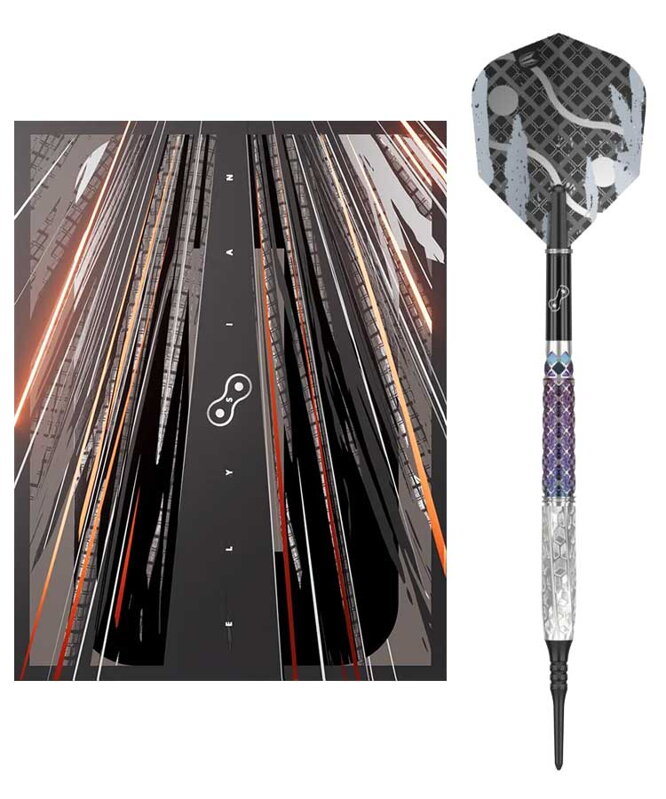 Target Softtip Darts Elysian 9 20g