Darts create a "knocking sound" when they hit the dartboard, which can sometimes be perceived as very disturbing for your surroundings, especially the neighbors. Together with sound insulation experts, Karella now has the perfect solution for almost complete noise elimination.
The secret lies in the material composition and construction:
Karella's two-part sound insulation consists of a sound-insulating core, on which the dartboard is attached, and a surrounding sound-insulating surround. Both parts are made of millions of highly specialized soundproofing fibers. The interaction of the sound insulation core and the surrounding sound insulation ring achieves almost complete noise isolation. When the arrow lands, a muffled knocking sound is transmitted through the dartboard and throughout the fiberboard. Professional measurements have shown a noise reduction of more than 80% in the darts room and in adjacent rooms. The measured values were below 30dB and the legal nighttime silence thus remains 100% intact.
Karella's anthracite sound insulation covers an area of 12 cm around the dartboard, which is why, thanks to its material composition, it is also ideal as a protective surround. This double advantage makes the purchase of Karella sound insulation even more economical. If necessary, normal Surround can also be used without restrictions. Karella soundproofing is 100% made in Germany. The fiber material is tested for pollutants according to Oeko-Tex, without chemical additives. Odorless and environmentally friendly. Sound insulation is very dimensionally stable and therefore very robust and durable, as it is almost wear-free. The visually attractive sound insulation is universally suitable for any sisal dart board, even the most common target lights can still be used.
Finally, every darts player can devote himself to his hobby whenever he has time for it.
Diameter: 690 mm
Thickness: 30 mm
Scope of delivery: Sound insulation core, sound insulation surround, Karella start line, dowels and screws.
The dartboard is not included in the delivery.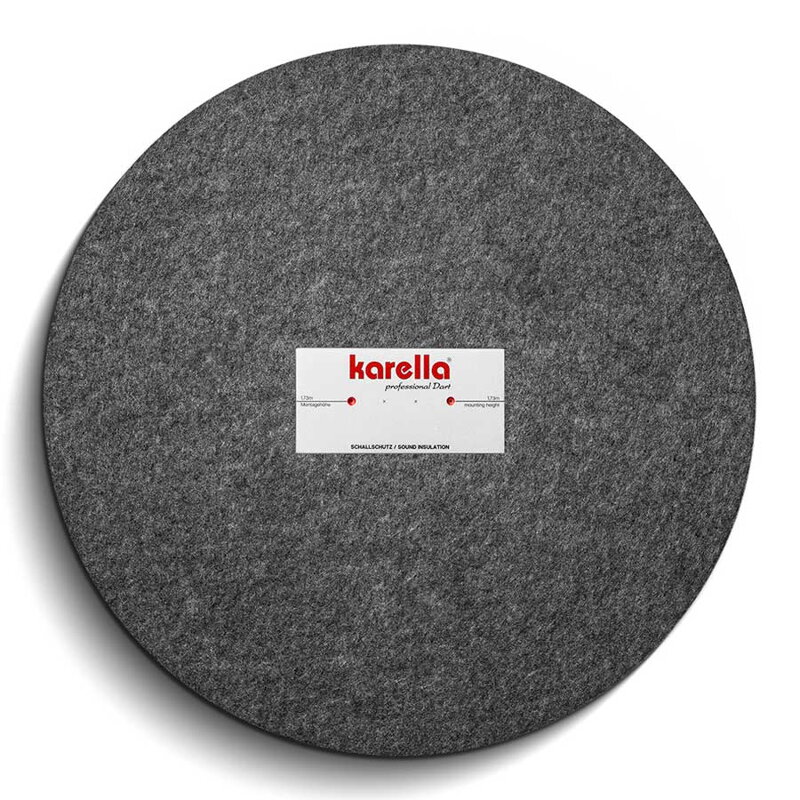 Karella sound insulation under the dartboard